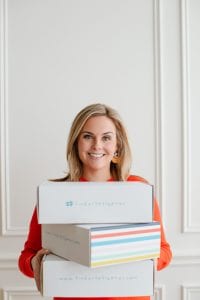 TinkerTots is a monthly subscription box service created for toddlers! It was created to make life a little easier for the busy mom, by designing activities for toddlers and moms to spend time together. The boxes come right to your doorstep, and include everything you need for each activity. The activities are developmentally appropriate and fun for tots- yet simple and easy for caregivers to do at home! Score!
The boxes are geared for toddlers ages 2-5.
The boxes include five hands-on, educational, activities. They provide the exact amount of materials you will need for each activity!
The activities promote creativity, fine motor skills, and other cognitive skills necessary in every child's development. All of their activities can be modified to meet each child's unique needs or abilities.
Current products:
Subscription Service:
Monthly Subscription Service: month-to-month, 3, 6, or 12 month subscription options  (price savings for longer term subscriptions)
Gift Boxes (one time purchases):
They are launching two new gift box options later this spring/early summer which are very exciting!
Pricing:
Every box is $35 unless you sign up for a long-term subscription where there is a bit of a discount. 
Promo Code: LOCALMOMS – 20% off the first box when you sign up for a month to month subscription (offer will be valid thru August of 2020).
Go to https://www.tinkertotsboxes.com/ to order yours!
Meet the Momtrepreneur behind TinkerTots- Katie Romant!
Katie is a mom of two toddlers Jackson (3) and Caroline (2). She was born and raised in Birmingham, and attended Michigan State University. She moved to Chicago after graduation, where she worked for an Executive Recruiting firm for 11 years before she decided to start TinkerTots Boxes. Her and her husband Andrew Romant moved back to Birmingham in 2015, and absolutely love raising their family here. Katie launched TinkerTots Boxes in September of 2019. Katie shared with me, "As a mom of two toddlers, I wished I was that mom who was super creative and on top of my game to have these supplies at my fingertips.  By the time I researched and attempted these cute, creative, educational activities with my children, I would end up spending a fortune and my children would have had a meltdown or lost complete interest." Feeling defeated sparked the idea of TinkerTots Boxes- delivering age appropriate, educational activities to your doorstep, including all materials needed, bringing you quality time with your tot without having to do any of the prep-work!