Meet Bridjet- full time mom of 3, lifestyle blogger, and philanthropist. Read about the birth of her third child- in the midst of a global pandemic, what she does for me time, and her favorite places in our community. 
Full Name: Bridjet Morris
Instagram Handle: @bridjetp_morris
How many children do you have and what are their names and ages?
Roman, 6
Isabella, 4
Rocco, 10 months
Where do your children go to school?
Roman & Isabella are enrolled at Academy of Sacred Heart. Roman is in 1st grade and Isabella is in preschool. Rocco is currently my full-time sidekick.

How did you and your husband meet?
We met while socializing with mutual friends.
 What made you decide to raise your family here?
I grew up in Midland and my husband Barton grew up in Bloomfield Hills. We have deep roots in Michigan and therefore wanted to raise our family here.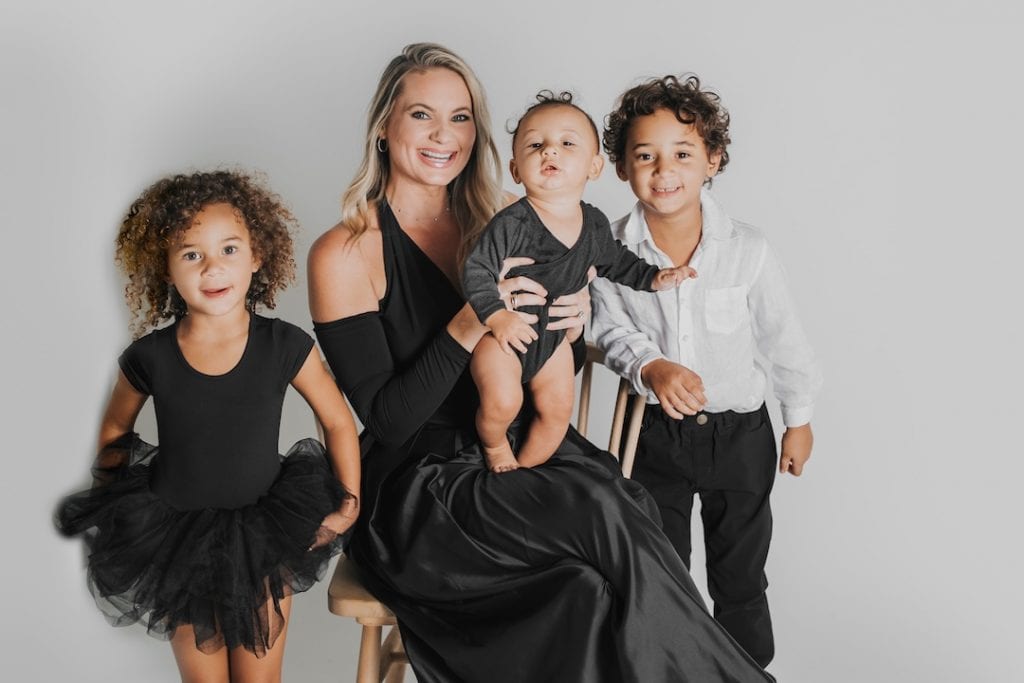 What's your favorite family activity in Birmingham/Bloomfield Hills?
Exploring the Cranbrook grounds or walking around Downtown Birmingham, followed by Brooklyn Pizza, and playtime in the park.
Where are your favorite places to eat with your kids in town?
Rugby Grille at the Townsend Hotel for family dinner. (It's very spacious and ideal when you have a bunch of kids. The staff are amazing and cater to a family-friendly environment.)
Commonwealth for family brunch.
Tallulah for date night or girls' night.
Brooklyn Pizza for pizza night.
Please tell us what it was like, having a baby during the early months of COVID.
Like every birth, the birth of my youngest son, Rocco, was beautiful and life-changing. Due to Covid, the experience had an extra element of anxiety. The hospital protocols were different; there was a heavy tension at arrival. However, as soon as I entered the Natural Birthing Center at Providence, greeted by my doula and midwife, I felt calm and quiet. The birth was very much like my first two pregnancies.
Read more about Bridjet's experience, here on her blog:
bridjetmorris.com/roccos-birth-story/
Speaking of your blog- tell us more about it!
In 2013, I created BridjetMorris.com as an outlet and resource to discuss issues that affect all women. As I've evolved and my life has transitioned to being a full-time mom of 3, so has my lifestyle blog. Not only do I share about wellness, fitness, and beauty, but also about the rewards and struggles of motherhood. This led me to launch the CountdownToBaby.com online course, guiding soon-to-moms on their pregnancy journeys.
What has it been like having a newborn and two other young children during COVID? What has helped you get through this time?
Caring for a newborn and raising two young children during Covid has been, to be blunt, crazy. But also wonderful! My family has had the unique opportunity to watch each other grow and bond even more. I owe an unyielding amount of gratitude to my husband for all the support and patience he has shown me and our children during this trying time. He has made our home truly a home–secure, fun, joyous.
What do you do to balance your own life and mommyhood? What do you do for "me" time?
Self-care is my non-negotiable. This might be a day at the salon having my hair blown out, or taking a bath with a glass of wine, or getting dolled up for girls' night.
Balance also relies on accepting help. I'll be the first one to admit I take all the help I can get. It takes a village.
Anyone special you'd like to thank for helping you through parenthood?
It goes without saying my husband Barton is my rock. I also am indebted to my sister who doubles as my kids' nanny. She runs the house when I'm not around: she cooks homemade meals, she creates fun games for the kids. The list is endless.
Tell us about Starfish Family Services! How did you get involved? 
A friend introduced me to Starfish Family Services almost a decade ago. I immediately recognized the need to lend my support for this organization that provides care to at-risk families. They work to strengthen families, providing a number of resources to vulnerable families in the Detroit area. For years, a few close friends and I organized holiday donation drives. In 2019, Starfish asked us to fundraise for a classroom buildout. My friends and I jumped at the opportunity, honored to create a brand new classroom where children can grow and thrive. At the unveiling, seeing the space come together, I had tears in my eyes.
Countdown to Baby- What is it and how can moms find out more?
CountdownToBaby.com is an uplifting online course that educates and guides pregnant women on their beautiful journeys toward motherhood. The course features 9 modules that, step-by-step, take you through the process of mindfully preparing and welcoming your baby.
 Anything else you would like to tell our followers?
I'm so thankful for the community cultivated through my blog, social media, and Countdown To Baby. I'm constantly inspired by the women I meet, both in person and online. My latest series "A Better You" are conversations with powerful and insightful women across the world from various industries. These talks are my way of heightening our connections to one another. Tune in to an upcoming conversation on Instagram Live.
Thank you Bridjet for sharing your beautiful family, and story with us!