Meet Kristin- the sweetest mom of 3, sleep consultant, and parenting coach! Kristin helps families create healthy sleep routines in her business love.sleep school, and her and her mom (how amazing is that!) work together to teach Love & Logic principles to families. All in all she is a busy mom, who is here to help other moms create their best family life!
Follow Kristin for the best sleep advice @love.sleepschool and parenting advice @love.parenting!
How many children do you have and what are their names and ages?
Three: Hudson (5), Shea (3),  and Molly (1). 
Where do your children go to school?
Westmaple at Redeemer in Birmingham
 What made you decide to raise your family here?
After graduating college and getting married, my husband, Clay and I spent 10 years in Chicago – some of the best years of our lives. Once we had two kids in the city, it was a grind and we realized there is no place like home. I grew up in Troy & Bloomfield Hills, Clay grew up in Grand Rapids, but agreed to make metro Detroit home. We feel so lucky to have doting grandparents around the block and cousins we see almost daily.
Tell us about love.sleep school. How did you decide to start this business?
I have always valued sleep, it runs in my blood. When I became a parent I was fearful that I would no longer sleep, or have a predictable schedule. As a teacher, I was used to structure, routines, and control in my classroom, and wanted the same for my home life. I was a confused first time mom with a big stack of books by my bedside table, too tired to read or commit to any of them. Luckily, I had a great mom tribe in Chicago, and we helped one another navigate that first year together. When we had our second baby, I knew that we all needed sleep to be our best. I was ecstatic after sleep training our second and third babies, and wanted to share with anyone who would listen, especially other moms complaining about being tired. 
In 2019, my mom and I started sharing Love & Logic with various groups in the community. It was so fun to connect with parents, share stories, and brainstorm in a supportive community about various parenting struggles. One of the more common issues that arose was surrounding sleep and bedtime boundaries. I sought out a sleep certification with Sleep Sense this year to learn more about healthy sleep, and how to help families incorporate it into their lives. It is such a critical, and often first step for parents in setting boundaries. I truly enjoy the work, and look forward to helping more families get great sleep this year!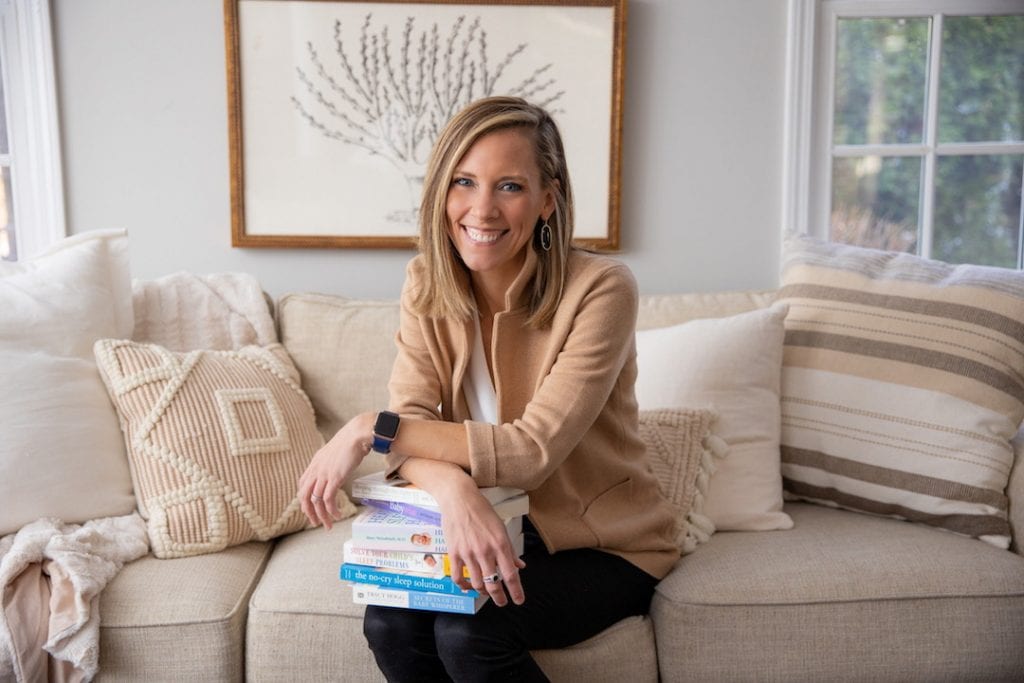 What support does love. sleep school offer to families?    
Love. sleep school offers families hope, as well as education, support, and encouragement surrounding healthy sleep habits and routines. Our sleep goals will include teaching your child the skills necessary for a good night's sleep. This will include helping your child:
To follow the steps of the bedtime routine

To fall asleep independently

To fall back asleep when waking in the night

To wake up at a reasonable time in the morning

To take naps at designated times 
Who would benefit from love.sleep school services?
Tired children and parents!
Children's memory, attention, learning, behavior, and attitude dramatically improve with good sleep. Great sleep improves children's mental and physical health. I love working with kids, so typically I work with newborns-age 6. It is never too late to teach healthy sleep habits!
Expectant parents would benefit greatly from my newborn services to get on the road to good sleep habits from birth. Infant parents, struggling to determine the best schedule of predictable daytime naps with a consolidated 10-12 hours a night can benefit. Toddler parents looking for support on setting boundaries regarding bedtime routines and a big kid bed can benefit. Any parents who feel burdened by bedtime and need support to make this an enjoyable, predictable time in your day. Great sleep is a benefit to parents and children alike.
What's your favorite family activity in Birmingham/Bloomfield Hills?
I forget…Kidding, kind of. We love to walk into town and grab a casual bite with the kids, or bring carry out to Booth Park. During this wild year we have toured every park in town! I love to get out and meet new people, I find the park is one of the best places to connect with other parents.
Where are your favorite places to eat/get carryout in town? 
You will find me at Greek Islands at least a few times a week. When we lived in Chicago I would make it a regular pit stop to grab bottles of dressing to bring back. Market's carryout has been our go to this past year. On date nights you will find us at Streetside, it's the best!
What are your kids favorite classes/activities around town? 
We love the Music Together program (Music with Merrily), Studio A dance class (Ms. Kimmy is the best!), we love Troy Gymnastics' open play and Mini Ropes Course, and we also just started Eddie O's basketball this winter!
Given your expertise, what is your best advice to parents? 
Kids thrive on structure and routine. This gives them a sense of predictability and safety that they crave. When they have a predictable routine, they can calmly unwind for bedtime because they know what is going to happen. Consistency is also so important! The more consistent we are, the clearer we communicate our expectations to our children. This increases the odds that they will cooperate with us!
What is love. parenting? 
My Mom and I started love. parenting to share with parents all the great ways that Love & Logic has changed our parenting for the better. We educate, support, and encourage parents about the Love & Logic principles through story telling about our own parenting experiences.
My mom is an inspiration. In her 40 years in special education (deaf and hard of hearing) in Bloomfield Hills Schools she has worked with many challenging students and taught Love & Logic to many parents. We have joined forces to collaborate and teach together. We have so much fun and compliment one another well, as she has survived the teen years and I am in the heat of the toddler years.
We offer a variety of ways to support parents from group courses, to private in home coaching, to phone calls and texting support.  Some topics we cover are not limited to, but include: sleep, routines, whining, car trips, attention seeking behaviors, protesting, mealtime struggles, transitions, school work, chores, allowance, potty training, sibling rivalry, aggressive physical behaviors such as bitting, hitting, throwing, etc.
There is no one right way to parent, or to handle a given situation. We provide options for handling chronic behaviors within a framework, and support you along the way.

What do you think the most challenging part of being a mom is?  
 Such a great question. So many things – hard to pick just one! Balancing. Such a hard job balancing everyone's needs, including your own!
 What's one thing people would be surprised to know about you?
I was a sixth grade reading and writing teacher in downtown Chicago for 7 years before I became a mom. I loved it, and some days miss aspects of the classroom. But it was a TON of work, and I am so thankful to be home with my kids now (although this is just a little more staying at home than I prefer). I am in awe of all the teachers this year who are motivating students to keep trying their best or who took the year off to teach their own kids at home – You are amazing!
Anyone special you'd like to thank for helping you through parenthood?
My husband, for always supporting me, and being my biggest fan.
My Mom, for her continuing to parent me as I parent – she is the best role model and friend, and I am so thankful for her in my life.
My sister Jenny and girl friends, without them I would have surely lost it!
Do you have a charity that you are passionate about/actively involved in?
We love supporting Angels' Place, but this question leads me to reflect that I would love to be more involved in a charity with our whole family.  
Anything else you would like to tell our followers? 
You will most likely see me around town followed by a protesting toddler this spring, just because you use a certain set of parenting tools, doesn't mean your kids won't test, you will just be ready when they do. 
One parent once told us, "I now feel empowered to take care of myself." If you are on the fence about getting sleep or parenting support, don't hesitate. I am committed to helping you reach your goals!
How to contact Kristin if you are interested in her services: 
Schedule your complimentary discovery call today. A 15 minute conversation with Kristin will allow her to hear what is going on with your family, share some introductory tips, and offer her support options!
Promo: $50 off your first Package when you mention BBH Moms!
Booking Link: https://lovesleepschool.setmore.com 
Thank you so much Kristin! Your knowledge is invaluable, and I know you are helping one family at a time create a better home life! Thank you for sharing your businesses and mom life with us! XO