Meet Two Moms- Jana and Kate, owners of Dreamland Parties and Sleepovers!
Jana Carney & Kate Malburg
IG: @dreamlandpartiesandsleepovers
How many children do you have and what are their names and ages?
Jana – I have two girls, Charlotte & Claire, and they are 8 and almost 5.
Kate – I have 3 girls. Emelia 7, Elsie 4 and Aida 2 months 
Where do your children go to school?
Jana – Northwood Elementary in Royal Oak & Birmingham First Kids Preschool
Kate – Northwood Elementary and Four Seasons Preschool
What made you decide to live here?
Jana – After graduating MSU, I moved to Royal Oak to be closer to my boyfriend (now husband) Brian.   We love the area, all 4 seasons and have made so many wonderful friends here.
Kate- I lived in Royal Oak in my early childhood and even at a young age I knew I wanted to move back. My husband and I lived in Chicago for 3 years and when he got a job in Detroit, we wanted to live in Royal Oak. We ended up living 3 houses down from the house I grew up in. 
Where are your favorite places to go with your kids in the area?
Jana – We love visiting the Royal Oak Farmers Market, our many parks, The Donut Cutter and anywhere with water.
 Kate- We enjoy visiting lots of parks and always love discovering new ones. We spend many weekends exploring Cranbrook Gardens and finding the next best ice cream spot. 
How did Dreamland Parties and Sleepovers get started?
It all started with a text sharing a link to a sleepover company in Florida.  We both loved the idea and jumped in with both feet and started creating Dreamland.  It didn't hurt that we got to do a lot of shopping in the beginning with trips to Ikea, Hobby Lobby and many craft stores!
How did you decide to go into business together?
We both love being stay at home moms, but wanted something for ourselves that our entire family would enjoy.  Our husbands are friends and our girls would play together every day if possible, so it seemed like a great fit to start a business where we could combine our strengths and have fun while doing it! 
What does your business have to offer?
We help families create magical memories at home, and do all the work!  Our sleepovers are unique, whimsical and something your child will remember for many years.  We work with many other small businesses to provide special treats, balloon arches, charcuterie boards, candy boards and more!!!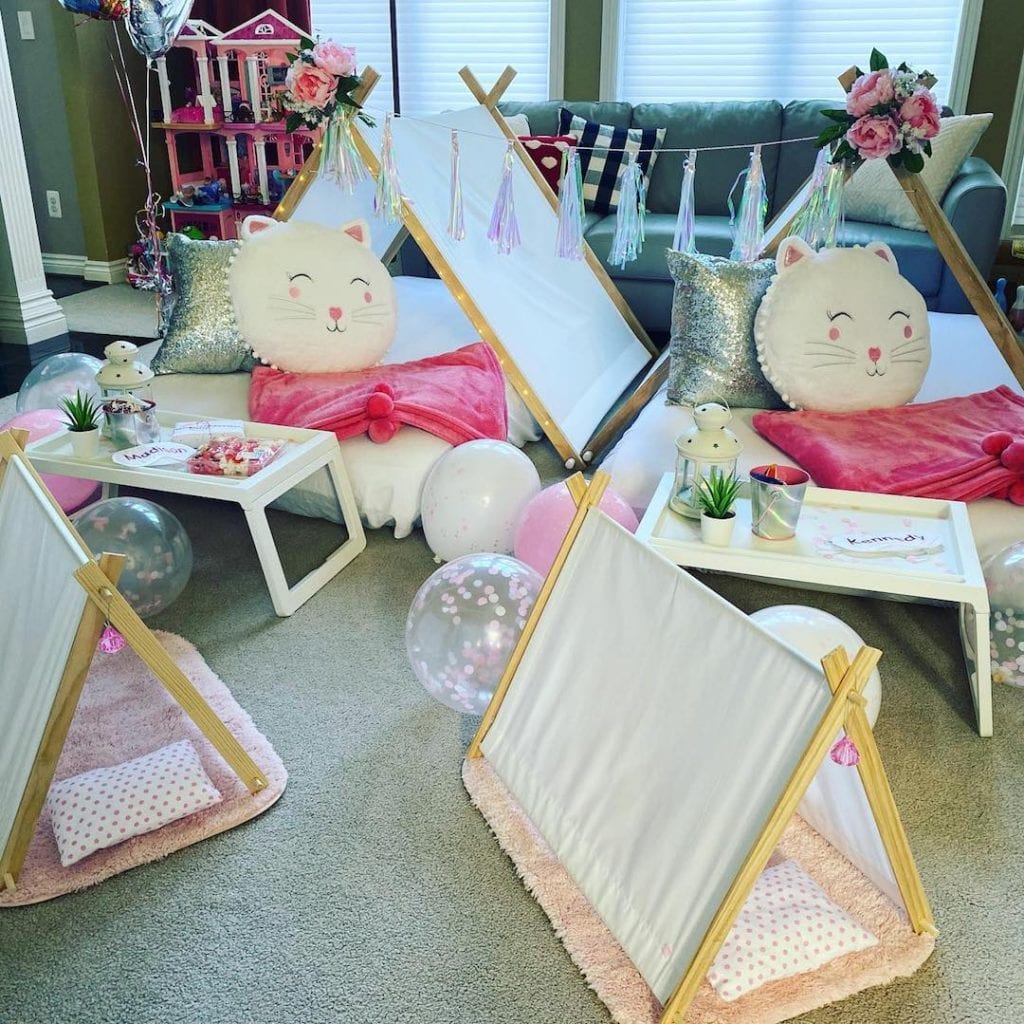 How can moms contact you if they are interested in booking?
They can reach us at our website DreamlandPartiesandSleepovers.com and complete our Booking Request Form or just send us a DM for more information. Contact Number: 260-450-2574
What do you do to balance your own lives and motherhood? What do you do for "me" time?
Jana – In some ways, Dreamland is my "me" time.  I love the creative outlet, getting out of the house to meet new people and working alongside my good friend, Kate!  I also love watching/playing sports, reading, going on random errands by myself, and having date nights with my husband.
Kate- "Me" time is sometimes hard to find, especially now with a newborn, but I do look forward to my trips to a Target drive up and hitting up the Starbucks line for an iced coffee. I do enjoy a hot bath with a glass of wine after the kids are in bed. I am looking forward to a mani/pedi soon! 
Is there anyone you'd like to thank for helping you through parenthood?
Jana – I would like to thank my parents who moved from my hometown in Indiana (they lived there for 40 years) to Beverly Hills 4 years ago.  They are always happy to watch our girls, do school pickups, attend kids' events, and we are so blessed to have them live nearby.
Kate- We live on an amazing street and I'm so thankful for all our neighbors who look out for each other and can relate to motherhood with me. We have similar aged kids and it's just so nice knowing we all have each other's back and can support one another. Jana and her family have been amazingly supportive to our family and with our girls so close in age, it's so nice doing parenthood alongside them. 
Is there anything else you would like to tell our followers?
We would love the chance to bring Dreamland to your home and create a magical night for your child and their friends.  We love seeing the smiles and hearing the squeals from our customers, and appreciate the opportunity to share Dreamland with everyone!
Thank you Jana and Kate for sharing Dreamland Parties and Sleepovers with us!