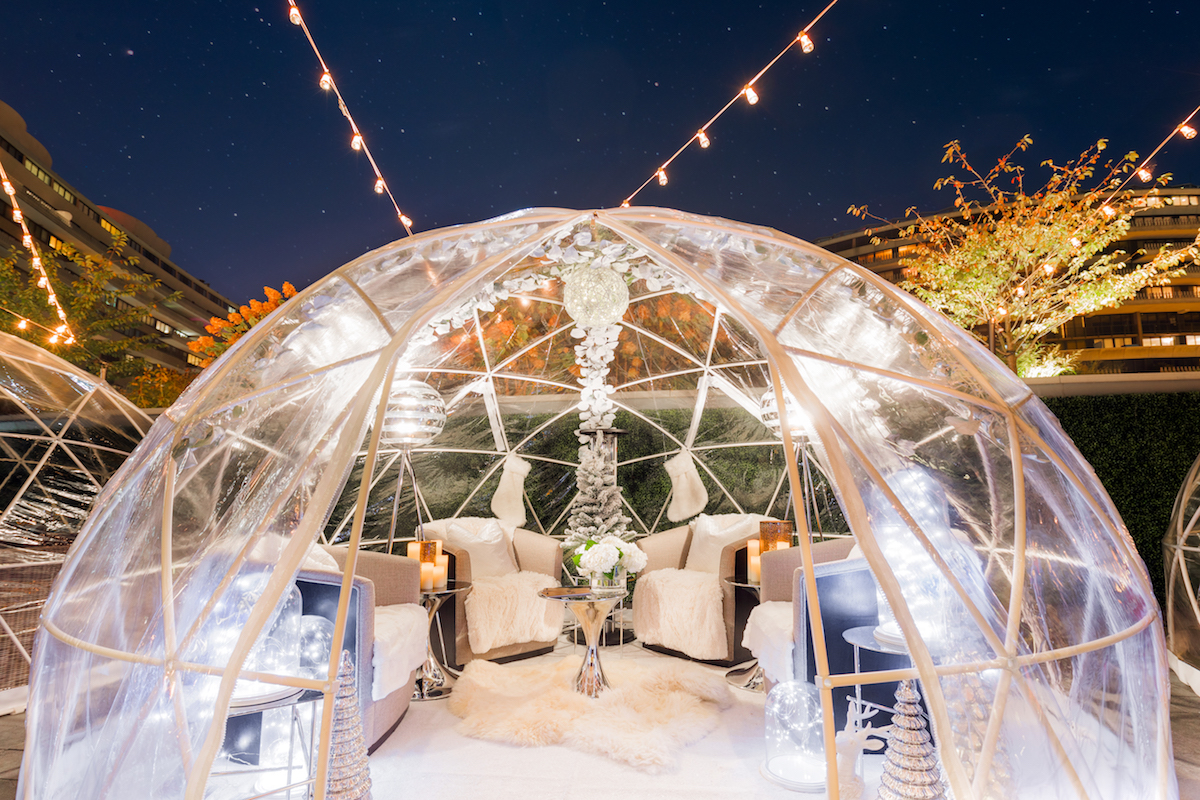 It's that time of year and everyone still loves a good Igloo to eat and drink in. Check out some of the local places around our area that offer igloo dining or outdoor heating dining. Such a great moms night out, date night or even some kid friendly restaurants that offer igloos.
Downtown Rochester Outdoor Dining
Park 600 Royal Park Hotel
600 E University Dr, Rochester
Reservations
Heated Outdoor Dining. The Royal Park Hotel will have a heated outdoor patio section that will be open all season first come first serve.
Armada Outdoor Dining
Blake's Cider Mill Winter Wonderland
17985 Armada Center Rd, Armada
Reservations
DINING IGLOOS / OPEN AIR BAR – November 19-March 6. Igloo dining courtesy of the Blake's Tasting Room / Blake's Ciderhouse & Winery is available from 11a-8p Monday through Sunday from mid-November through the end of March. You can enjoy burgers, wings, sweet treats, salads and apps from a fairly large menu. The drink menu is expansive with plenty of hard ciders and craft beers. You can reserve dining (and check out their menu)
Berkley Outdoor Dining
Berkley Common
3087 Twelve Mile Rd, Berkley
Reservations
IGLOO DINING / OUTDOOR HEATED PATIO – Now Open. "American transitional food with a global twist"
Birmingham Outdoor Dining
Casa Pernoi
310 E Maple Rd, Birmingham
Reservations
HEATED PATIO. "A casual, refined Italian dining experience." Info from allinbirmingham.com
Social Kitchen
225 E Maple Rd, Birmingham, MI
Reservations
Greenhouses rental for up to 5 guests.
Royal Oak Outdoor Dining
Lockhart's BBQ
202 East 3rd Street, Royal Oak
Reservations
IGLOOS – Reservations Begin December 3. Lockhart's BBQ Royal Oak menu has unique BBQ selections with Royal Oak flair. As far as taste, quality, and the selections are concerned, this is "the real thing." Menu items include sandwiches literally stuffed with brisket, pulled pork, BBQ chicken, smoked sausage, and smoked salmon. Lockhart's also offers brisket burgers, salads, and full BBQ plates where you choose your meat (ribs, ham, brisket, pork, etc.).
Brown Iron Brewhouse
30955 Woodward Ave Suite 510, Royal Oak
Reservations
HEATED PATIO / IGLOOS – Starting Mid November. "Casual, industrial-style hangout with many craft beers on draft & a menu of American fare & BBQ."
Bigalora
711 South Main Street, Royal Oak
Reservations
HEATED IGLOOS. Pizzeria and contemporary Italian restaurant. The heated igloos at Bigalora offer a full food and draft menu, along with weekly food specials.
The Royal Oak Brewery
Reservations
HEATED BEER GARDEN & IGLOOS – Starting Mid December. Brewpub with a heated beer garden offers beer on tap alongside a from-scratch American menu.
Detroit Outdoor Dining 
San Morello
1400 Woodward Ave, Detroit
Reservations
Lumens Detroit
1903 Grand River Ave , Detroit
Reservations
ENJOY!