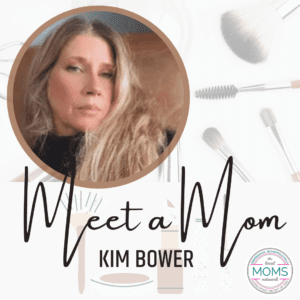 Meet celebrity make-up artist for red carpet events, press events and editorial, Kim Bower. She shares her "pinch me" moments in her career and why she calls Michigan home. Opening a studio here in our community and offering some amazing services for moms (and women) beyond just make-up application. Read more to learn about Kim, her family and the next steps of her career here in Michigan.
How many children do you have and what are their names and ages?
I have two girls Charlie and Lucky they are 15 and 8 respectively
Where do your kids go to school?
My girls go to West Bloomfield High School and Sheiko Elementary.  They love softball and reading and I am really enjoying spending much more time with them.
Ok, you probably have one of the most fun jobs. You're a make-up artist in NYC and have recently semi-moved back to Birmingham. Tell us all about Kim Bower Makeup.
I am a celebrity makeup artist in NYC for red carpet, press and editorial. I am currently represented by an agent there and travel between NYC and L.A. for bookings.  Moving back to Michigan has enabled me to build a by-referral community of clients looking for makeup for special events, job interviews ,meetings photo shoots and weddings.  I also offer personal shopping services as well as makeup lessons and makeup bag updates. I am an "in-your-home" service, though I do maintain a small studio as well.
What was one of your most favorite jobs you had as a make-up artist?
That is SO hard to say because I have had to pinch myself everyday, doing what I do.  I have worked with Vogue, Elle, Marie Claire, Net a porter, Vanity Fair, Allure and many more editorial publications. Recently I have been working with Alanis Morrissette.  It was fun running around with her across Manhattan for her New Years Eve appearances.  I was with Renee Elise Goldsberry when she won her Tony for Hamilton. I have had long chats about life while touching up Ellen Barkin and worked with Gwyneth Paltrow for  goop makeup. I spent 10 years working with Julianna Margulies and watched her career and personal life unfold as a Mother.  I have  done makeup for Patricia Clarkson, Sara Paulson, Elizabeth McGovern and Padma Lakshmi for the Emmy's and the Golden Globes. Mary J Blige introduced a fragrance called blossom and I did the makeup for her campaign in Miami.  I have been working with Danai Gurira for years and was with her in London for the premier of Marvel's "Black Panther". It really has been an exciting 16 years and I am so excited to begin creating new memories here.
.         
What is your goal with bringing your family and business back to Birmingham/Bloomfield?
My goal was to really be present for my children every day and raise them in a safe, loving and diverse environment.  I am excited to be able to do what I love for a living while making my kids breakfast and picking them up from school.
We are all moms and sometimes we don't have much time to glam ourselves up, what would you say are your top 3 make-up products every mom should have?
Three things worth spending money on is:
An excellent moisturizer.

I love Augustinus Bader an incredible line developed by a stem cell biologist that repairs skin cells , sun damage and discoloration. I made it through a winter of Accutane with no dryness with this product

A nice fuller coverage foundation in the Fall ( I prefer Armani )
An excellent mascara my go to's are Armani eyes to kill and Chanel volume in black always black
if I can add a fourth I would say a little cream blush. I'm a huge fan of Tarte's gel tint in flush (a sheer berry) and any of Nars multiples they are great for summer.
Any additional tips for applying make-up or what moms should know?
Be light handed and play up the things you love about your face.  Don't cover a freckle and…try not to go crazy with contour during the day.  I like a healthy glow on the cheek, a full fluffy lash that matches the shape of your eye and a bit of colored balm on the lip.  Brows can really trip you up – full and fluffy is great but dark and painted on can be unflattering.  Brows shape your entire face from the curve of your lip to your cheek bone and eye.  If it is off, it can be off-putting.  Lastly, use powder with a very light hand or not at all.  Oh, and, a little blot paper can go far.
What services do you provide for our area?
Everyone always needs a make-up artist on hand.  I am available by appointment at your home or in my studio, for any event.  I offer lessons as well.
What made you decide to raise  (come back) your family here?
We lived in Birmingham 20 years ago for 1 year and loved it so much.  My husband worked in sports radio on WDFN – 1130 "The Fan" doing a radio show.  When we had a chance to return and buy a home in Michigan, it just immediately felt like the best place to raise our kids. It is just gorgeous here in Michigan and I love the seasons  – ALL of them! (lol). People here are so kind and have a real spirit of entrepreneurship.  I remembered how glamorous Michigan girls were and that ladies were quite savvy about their makeup so I knew it would be a great place to restart my career.
What's your favorite family activity to do during the summer months?
We are a big softball family and we love to go outside and play ball together and cheer on the girls.  We are excited to explore Michigan some more this summer and find some cute towns with downtown shopping.
What are you and your family looking forward to in 2022?
We are really excited to get settled in this house and fight that supply chain for more furniture – lol.  We have met some lovely people and look forward to building those relationships. Mike is concentrating on building his new home voiceover studio in the Fall.
What do you do to balance your own life and motherhood? What do you do for "me" time? Juggling your own business and kids is always hardwork.
I do feel like that has been one of my most difficult battles.  I love to read and am carrying around "To Paradise", thinking I am going to do that for myself this summer.  Fingers crossed!  It is a long book.  Sometimes just running to grab a quick blow dry is that treat I need to feel good and get away for a bit.
Anyone special you'd like to thank for helping you through parenthood?
Well I have an AMAZING partner who was raised by a very loving Mom who shows me what kindness and patience look like every day.  We used to joke if he could have breast-fed he would have. My best girlfriend who lives in Raleigh, NC has been my absolute go to for every single parenting dilemma from day one. I couldn't do it without her she is brilliant and tough.  She is definitively the person who runs towards the flames.
Appointments, House Calls and everything else beauty: 
Phone: 646-246-6961 | @kimbower
Thank you so much for sharing Kim. xx