Meet Sara G. Walker, a mom to 3 under 10, working full-time in advertising sales and children's author. Learn more about Sarah and her beautiful family and the book "Blankie Babies" that you an pre-order now before the holidays are here. 
How many children do you have and what are their names and ages?
3 children:  Henry (10), Garrett (7) and Alaina (5)
Where do your kids go to school?
They're all in the Bloomfield Hills Public School District
You're a mom to 3 under 10 and also a children's author. Tell us about your most recent book.
The author part is my creative passion project, the mom part is my lifelong privilege! My debut book is about "Blankie Babies" – think Berenstein Bears meets Muppet Babies – with blankies as the central theme that connects the characters and their adventures. I'm a blankie baby and so is my middle child plus I have lots of girlfriends who still have their childhood blankies. The power of the blankie is strong and there aren't many – if any – books written about them beyond infant books. I wanted to capture their magic and the fun of the blankie baby because everyone I talk to is either one themselves (even as an adult!) or knows one. I'd like to say we're a special breed but there are so many of us, I'm finding we're everywhere!
And how can we purchase or pre-order it?
The book is now available for pre-order and shipping before the holidays here. It'll be available more broadly on Amazon, at Barnes & Noble and other retailers early next year. 
We would love to know more about your background, what other books have your written?
I work full-time in Advertising Sales at Spotify and when the opportunity presented itself last year, during a company-wide Wellness Week off, I finally put my ideas down on paper and started the publishing process. The past decade has been so focused on child rearing that it feels fun to pursue a passion and to have this creative outlet at this stage of parenting with all three kids now in school full-time. I'm still considering expanding into a Blankie Babies series and feel I've set it up well to continue it if I want to. I've always love writing, love being a mom and wanted the book on my kid's bookshelves – to show them that if you have a dream, there's always a way to achieve it through hard work and commitment.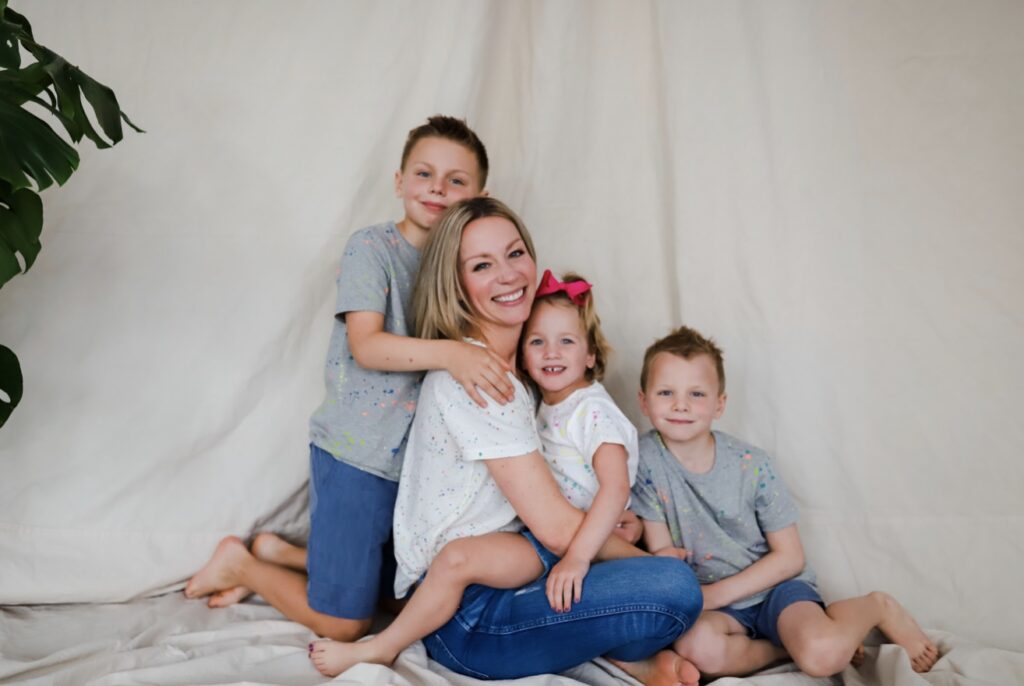 The holidays are near, what are some of your favorite holiday activities with the kids?
We're BIG into holiday traditions in the Walker household! It's so fun to see how the kids remember what we did the year before and make sure we're doing it again. We always chop down a live tree the day after Thanksgiving, see Santa and decorate the house. We do a big cookie baking day with my mom + relatives. We love going to Greenfield Village Holiday Nights, seeing the Detroit Zoo lights, and walking around downtown Rochester with the window décor + lights after dinner at Red Knapp's diner. One of the most fun things we also do is just drive around to see neighborhood Christmas lights on school nights – simple, easy, passes the time and we're all talking together in the car. On New Year's Eve, we always go to a local hotel with a pool, order in and decorate the room for a NYE party including epic dance parties and Just Dance-off's before watching a Netflix ball drop.
With 3 under 10, what's your favorite night out for family dinner?
A favorite local go-to for dinner is J-Bird in Keego Harbor. The kids love their mac n' cheese and their BBQ is the best around. In the summer, you can sit outside and the kids play with the rocks and games they have like Jenga. And another favorite local is Slice, in Birmingham. Kids love the arcade.
What are you and your family looking forward to in 2023? (Wow, 2023, yikes!)
It sounds so futuristic! Every year on NYE, we each write out "goals" (not necessarily resolutions) for the new year. We hang them up so we can see them throughout the year reminding us of what we want to accomplish – learning to swim, learning guitar, making the travel soccer team, etc. It promotes knowing we CAN do it if we set out to and it's fun to look back on what we said we'd do and might not have, knowing we can keep trying. We have some exciting travel planned for 2023, too (my 40th!). These are great ages to travel with.
What do you do to balance your own life and motherhood? What do you do for "me" time? Juggling your own business and kids is always hard work.
There's no secret sauce but I will say my mom always instilled in me that we need to take care of ourselves to take care of others – the whole, put-your-oxygen-mask-on-first approach. This is hard when the kids are very young, for obvious reasons, and my mom guilt has gotten better as they've gotten older. My husband is awesome and very hands-on and never bats an eye when I want to work out, work on my book, have a night out with friends, or do a spa day. We also prioritize time together which has been lifesaving in so many ways – date nights, anniversary nights away, endeavoring fitness stuff together. We get antsy if we don't have that dedicated time and it's good for the kids to get a break from us, too (let's be honest!).
Anyone special you'd like to thank for helping you through parenthood?
My mom, Kathy Kucyk. She is the best role model and my first phone call of every day. I'm so blessed for her support and friendship in my life. My husband, Ryan Walker – he's the most equal partner in every way and my best friend to boot. My girlfriends – some of us have grown up together and some I've more recently become close with and we all bond over the hilarity, chaos, and stress that parenting brings which keeps us sane. 
---
For more on Sara, give her a follow.
Email:

[email protected]

Social: IG: @saragracewalker and @blankiebabiesbooks, FB: Sara Grace Walker